Clinical Pathology

Clinical Pathology
A wide range of clinical pathology services are available at INA, conducted by experienced veterinarians (certified clinical chemists) and medical technologists.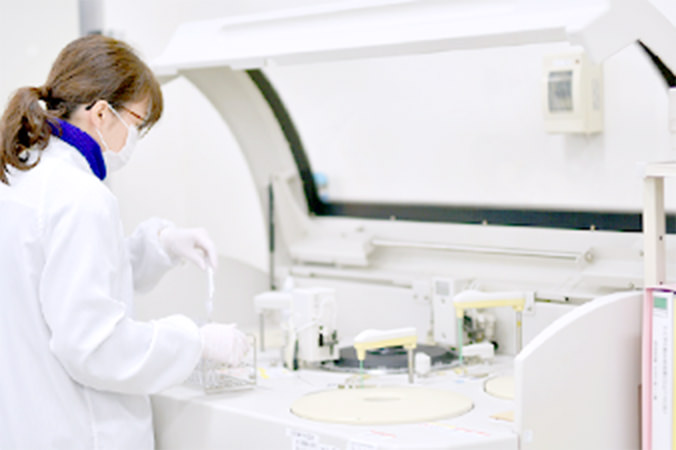 Clinical Pathology
Hematology
Simultaneous evaluation of complete blood counts (red blood cell counts, white blood cell counts, platelet counts, hemoglobin and hematocrit measurements), white blood cell differential counts and reticulocyte counts/ratios using a hematoanalyzer).
Microscopic measurement of reticulocytes by supravital staining and calculation of white blood cell differential (ratio) in blood smears.
Blood coagulation/fibrinolysis
Measurements of prothrombin time, activated partial thromboplastin time, fibrinogen and coagulation factor activities using a coagulator.
D-dimer and fibrin/fibrinogen degradation product (FDP) measurements using commercial reagents.
Measurement of platelet aggregation ability.
Myelograms
Clinical chemistry
Measurements of proteins, enzymes, low molecular weight nitrogenous compounds, glucose, lipids, electrolytes, pigments and novel biomarkers (GLDH).
Analysis of protein and lipid fractions, isozymes
Measurements of protein fractions, lipid fractions (lipoprotein, CH, TG) and isozymes (ALP, LDH, CK) by agarose gel electrophoresis.
Toxicity biomarker analysis
Various measurements (Troponin I, Clusterin, etc.) using commercially-available ELISA kits.
Bone biomarker analysis
Various measurements (OC, PYD, DPD, NTX, CTX, etc.) using commercially-available ELISA kits.
Flow cytometric analysis of cell surface antigens
Measurement of lymphocyte subsets (T cells (CD4 and CD8), B cells and NK cells) using a six-color flow cytometer.
Analysis of blood gases
Analysis of blood gases (pH, O2, CO2).
Urinalysis
Analysis of parameters such as urine volume, color, specific gravity, osmotic pressure, qualitative and semiquantitation tests using reagent strips and quantitation of urinary electrolytes.
Determination of urinary composition including protein and NAG.
Other
Immunological tests (Coombs' test, etc.), fecalysis, hemolysis tests.